As a Centre of Excellence for training in the horseracing world, the British Racing School aims to provide a range of training of the highest standard to meet the needs of the racing industry, and to meet the needs of their learners.
The original aim of the School was to provide purpose built facilities to promote and encourage young people who had the potential to ride as professional jockeys. Since then, the School has developed and flourished to its current position as the Centre of Excellence for training in the racing industry, providing a whole range of different courses and training.
They provide courses from Pony Racing right through to a Management Programme and everything in between. Their primary focus is on Apprenticeships and are proud to place over 150 young people in yards all over the UK once they have completed a residential foundation course with us. As a registered charity, the British Racing School we are eternally grateful to our donors for their generosity.
How to contact British Racing School
National Horseracing College
As the racing industry's sustainable, resilient, responsive centre of training excellence in the North of England, the NHC delivers skilled staff into horse racing. With the help of their thoroughbreds, many of which come from successful careers on the track, the College's highly qualified staff work as a team, exercising enthusiastic good leadership to nurture, inspire and motivate all learners to develop their passion for horses and racing and to provide them with the skills they need to work in the industry. All this takes place at the NHC's well equipped residential campus in the glorious setting of the Rossington Hall Estate near Doncaster.
The NHC run a host of courses throughout the year. At the first level, the Foundation Course in Work Based Racehorse Care takes learners, some with little or even no previous knowledge, through a progressive but intense 12-week programme that covers more than a whole year's worth of training at a 'normal' college. By simulating the realities of work in racing yards, they provide learners with a comprehensive grounding for the placements that follow and which lead, for almost all of them (96%), to full time employment thereafter in yards across the whole of the UK. Once in their jobs as racing grooms, most NHC graduates progress to apprenticeships at Level 2 and some to Level 3, overseen by our team of Roving Assessors.
Other courses at the NHC include training, development and licensing for staff and riders already employed in the industry in a wide range of capacities, including senior yard staff, administrative staff, work riders, jockeys and aspiring trainers.
Key to the NHC's success is its willingness to make its training as accessible as possible to as many people as possible. Learners don't have to be aspiring jockeys to be able to take advantage of the opportunities and excitement the racing industry has to offer. They encourage applicants who may be younger or older, larger or smaller and support them through their courses, also giving outstanding functional skills training along the way where necessary, to achieve their goals and to provide the skilled workforce the industry's busy employers need.
How to contact National Horseracing College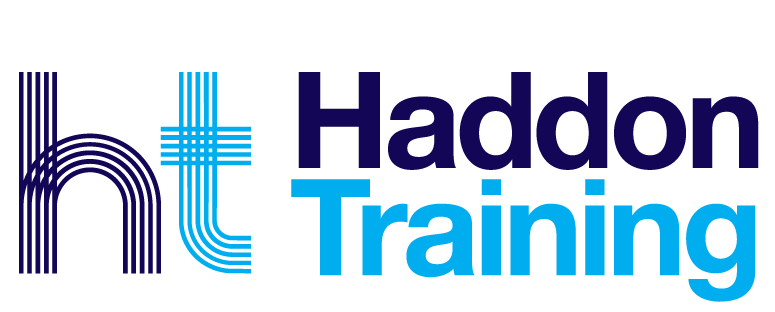 Haddon Training are a long-standing, leading training provider within the equine and animal care sector, delivering high quality work-based apprenticeships throughout England and Wales.
Since it began, Haddon Training has helped over 4,000 young people gain nationally recognised qualifications, encouraging young people and adults into the equine sector through its work in racing, riding, breeding and general horse care.
Haddon Training works collaboratively with the racing industry and provides apprenticeships in racehorse care and management, as well as a specialised business administration option. All their racing Trainer Coaches have proven life experience working within racing and are proud to deliver these tailored apprenticeships to many established and respected racing yards.
Their apprenticeships enable learners to be employed throughout their training, with no day release required, and all learning and development taking place at their chosen employer.
Options available include:
Level 2 Racing Groom with riding or non-riding options A great introduction into racing and ideal for those looking to pursue their jockey licence.
Level 3 Senior Racing Groom with riding or non-riding options. This is suitable for those wishing to progress into a senior role within racing, such as Head Groom.
Level 3 Business Administration in partnership with the British Horseracing Association (BHA). Perfect for people looking to pursue a career in an office-based role within the industry.
Level 4 Learning and Skills Mentor. A brilliant choice for those wishing to give practical, technical, or pastoral support and guidance to others entering the racing sector.
Haddon Training also offers a free recruitment service to racehorse trainers to help them advertise and find an apprentice.
How to contact Haddon Training
haddontraining.co.uk
01672 519977
enquiries@haddontraining.co.uk
Homing Ex-Racehorses Organisation Scheme (HEROS)
HEROS is a registered charity based at North Farm Stud in Fawley near Wantage. The focus of the charity is to retrain and re-home ex-racehorses for an appropriate life after racing and to offer training, advice and ongoing support on all aspects of equine care and resettlement.
Through its retraining and rehoming scheme, and its education and training programmes, HEROS is supporting the racing industry in its commitment to the welfare of racehorses by training high quality skilled racing staff, and by providing ex-racehorses with a secure future.
In partnership with well-established local training providers, HEROS is introducing a range of courses and work experience opportunities to support people of all ages, including:
Racing staff already working with horses.
Those considering a career in racing or in the wider equine world.
Those who are simply interested in increasing their personal knowledge and experience.
The courses aim to:
Provide work experience, training, vocational skills and qualifications for those wishing to work with horses, or for existing racing staff who wish to upgrade their skills.
Widen the horizons and increase employability opportunities of those seeking work.
Give training, advice and ongoing support on all aspects of the job search.
Offer confidence and life-changing skills through practical knowledge in the handling of horses and an understanding their needs.
Opportunities and Training
Racing staff/rider clinics and seminars
Short, practical and knowledge based courses in a variety of aspects of riding, horse care and management (including racing specific), for those who wish to further develop their confidence, skills and knowledge.
Work placements
Bespoke courses for those considering a career with horses, and for students currently on racing staff training, equine and veterinary courses.
HEROS Racing Staff Academy
These courses equip students not only with the vocational skills needed by racehorse trainers but, by developing the students' transferable skills such as communication, self-awareness and team work; we believe that their emotional resilience will improve. A key benefit of this partnership is the wide range of horses available, which will allow learners to be challenged according to their level of competence.
Therefore, they will develop the key skills that the racing industry needs in a safe and secure environment. The wide variety of trainers in the vicinity will enable HEROS to effectively match each student with an appropriate placement in relation to the needs of both.
Full time Vocational Courses
Work- related technical qualifications with an emphasis on equipping students with a wide range of practical horse skills and knowledge related to the horseracing and sports horse industries. The courses will continue to develop students' English, Maths and employability skills at all levels in preparation for employment and/or further studies.
Traineeships
Designed for young people aged between 16 and 24 who need to gain skills, confidence, and work experience before progressing into employment, or onto an Apprenticeship programme. The course at HEROS lasts between 6 weeks and 3 months and offers practical training in horse care, support with literacy and numeracy, as well as employability skills to help young people become work ready.
Apprenticeships
Apprenticeships are work-based training programmes for people aged 16 and over which combine on the job training with nationally recognised qualifications. HEROS can offer an Intermediate or Advanced Apprenticeship in Horse Care and facilitate placements in suitable yards (racing or wider equine).
Work related training for school pupils
A course designed for 14 – 16 year old school pupils who would benefit from a practical day release programme alongside their school studies to complete an entry level 1st4sport qualification. This initial training course could lead onto a Traineeship, Apprenticeship or full time college course upon completion of the learner's full-time studies at school.
English for Racing Staff
We will use specialist ESOL teachers and our training facilities to help those who do not have English as their first language to develop their English skills.
The course will be designed to support those who work or intend to work in horseracing and so will have an emphasis on language relating to the care and training of racehorses, and health and safety in the workplace. As well as giving access to further education the course will promote personal development, both of which will be mutually beneficial for the learner and the horseracing industry.
Upon completion of this 6-week programme, participants will be able to move on to further English courses in partnership with the Berkshire school of English and/or advance within their employment.
1st4sport Level 2 Certificate in Assisting with the Rehabilitation of Horses
Developed in partnership with the British Racing Authority (BHA), the 1st4sport Level 2 Certificate in Assisting with the Rehabilitation of Horses is designed to provide a benefit to learners who may already have experience of working with racehorses and who wish to specialise in providing rehabilitation opportunities to horses retiring from the racing industry for a variety of reasons including age, injury and form.
Equine Specific 1st Aid Course
This course has been tailored to deliver a complete overview of first aid procedures for those working with or involved with horse riding and racing activities, including events and recreation.
The Added rider-specific content reflects the risks riders and racing staff face on a daily basis. The tailored course will deliver a complete overview of first aid procedures for those working with or involved with horse riding and racing activities, including events and recreation.
Create an account on the Racing Groom Hub
Use our free CV & cover letter tools for easy job applications and to apply for Work Experience
Find any licensed trainer in the UK using our 'Trainer Locator' who may offer you a job or work experience.
Access exclusive benefits for Racing Grooms
Top tip! If you can't see your perfect job advertised, trainers welcome speculative applications too! Use the trainer locator to get started.