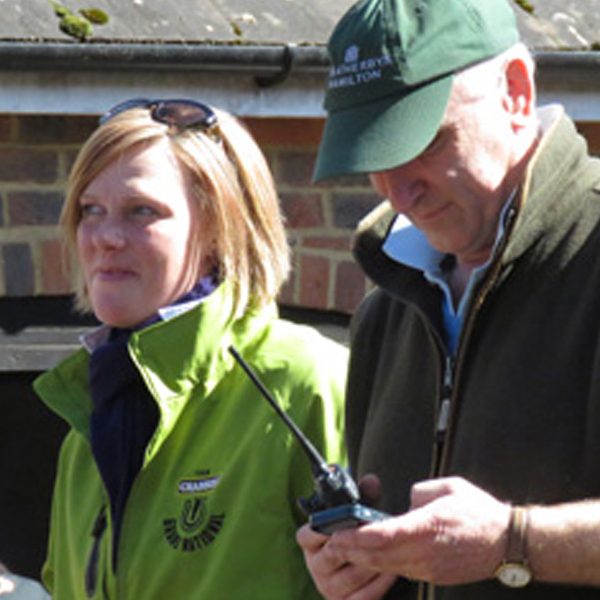 Equine Welfare and Integrity Officer and
Former Travelling Head Groom
Oliver Sherwood Racing
Lambourn
What training did you have to get into racing?
My grandparents enjoyed going racing and I would tag along whenever I could. I had a little horse experience before I started helping out at a local riding school in return for lessons.
I came into racing via the National Horseracing College, 22 years ago. I was straight out of school with no racing experience. Looking back at the 12 week course now, I had the time of my life!
Where did you work as a Travelling Head Groom?
I worked for Oliver Sherwood as Travelling Head Groom for 14 years.
I always knew I wanted to be a travelling groom and set about getting my qualifications and experience as soon as I could. I have worked in both Flat and National Hunt yards throughout my time in racing which has given me a great set of all round skills.
How did you find your first job in racing?
I was given a placement from the National Horseracing College at a small yard in Melton Mowbray but I suffered from homesickness. The racing school were amazing and found me a new place with Chris Thornton in Middleham, and I never looked back.
What did you do in your role as a Travelling Head Groom?
I was solely responsible for the sorting of equipment required to go racing including colours, tack and staff. I drove the horsebox daily to as many meetings as I was allowed! I prepared horses at the races, saddled up, dealt with owners and jockeys then oversaw the after race care of the horses.
I loved it and got to meet some amazing people and horses on a daily basis.
Have you used any of the industry support?
Thankfully, I have never had to use any of the amazing industry support. But I have experienced others who have used some and it is a very important and valuable backup structure needed in our industry.
It's tough coming into racing at such a young age, moving away from home, your family and friends but racing is a huge supportive network of new friends, all with the same interest – horses!
What are your plans to progress your career?
As far as my future career, I think I've reached my peak having been a part of the Grand National winning team with Many Clouds in 2015. Nothing can top that – it's the stuff of dreams and I'm incredibly privileged and proud to have been part of that team.
I will continue to learn and develop all the time. I want to encourage others to follow in my footsteps as one day it could be them being part of such an amazing winning experience.
This really is a career with lots of opportunities for progression. I am now a Equine Welfare and Integrity Officer for the BHA which is a really exciting next step for me.
What awards have you won or been nominated for?
I'd been very lucky to have been nominated for the Godolphin Stud and Stable Staff Awards three times, and have made the final 10 twice.
Most importantly I won many 'best-turned outs' during my time at the yard and I took pride in teaching the other members of staff to turn their horses out to a high standard. It's the little things that matter and I wrote a blog to help others.
What tips would you give a person wanting to start a role as a racing groom?
Coming from a non-racing background I was ridiculed by my careers advisors about my decision to come into racing, but I proved them wrong and I've made a successful career and life choice.
I would recommend this life to anyone. There are fantastic opportunities whether it be getting your first racecourse ride or leading in a Grand National winner. And still nothing for me beats the feeling of sitting on a horse and flying up the gallops.
See what some of our Ambassadors say about working as a Racing Groom
Create an account on the Racing Groom Hub
Use our free CV & cover letter tools for easy job applications and to apply for Work Experience
Find any licensed trainer in the UK using our 'Trainer Locator' who may offer you a job or work experience.
Access exclusive benefits for Racing Grooms
Top tip! If you can't see your perfect job advertised, trainers welcome speculative applications too! Use the trainer locator to get started.