Virtual Open Mornings at the National Horseracing College
Considering your college options? Many colleges are offering virtual open mornings but what does that actually entail?
Here's what's included:
A guided tour around the NHC, exploring the unique facilities
Info about the 12-week residential Foundation Course
Meet the horses, the team, and the current learners
Ask questions throughout the live sessions and they'll be answered during the video
Watch the current learners riding
Watch a demonstration on the racing simulators
Watch a typical morning routine for Foundation Course learners
Virtual Open Morning dates for 2021
The live events take place via Zoom or Facebook Live video and alternate between dates.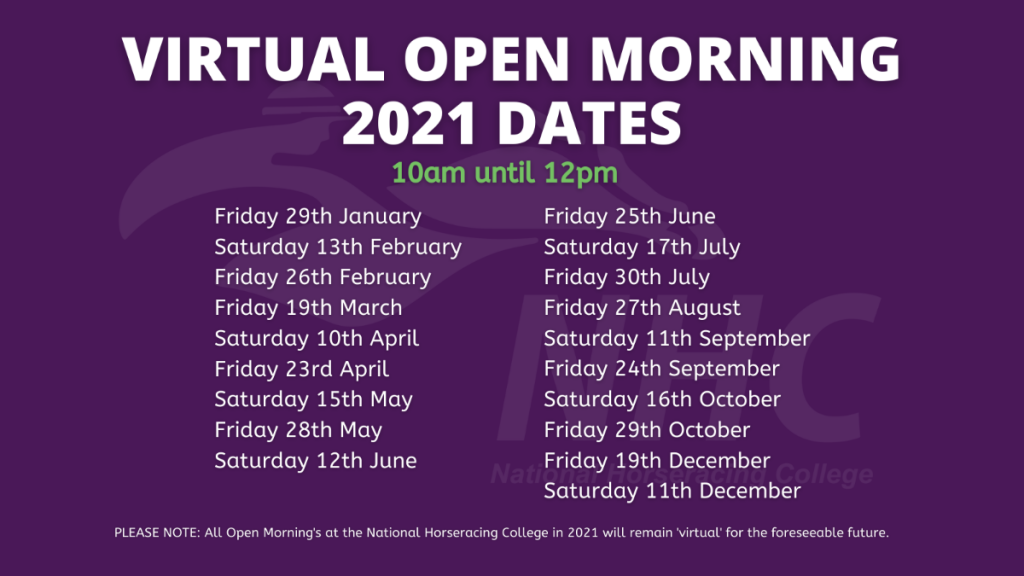 How to book onto a virtual open morning
You only need to register for the Virtual Open Morning's that take place via Zoom (typically Saturday's). To register, simply email info@theNHC.co.uk and you'll be sent the log in details.
Find out more about the open mornings at the NHC at www.thenhc.co.uk/nhc-courses/open-mornings.