TV star Chris Hughes launches National Racehorse Week (12-19th September 2021)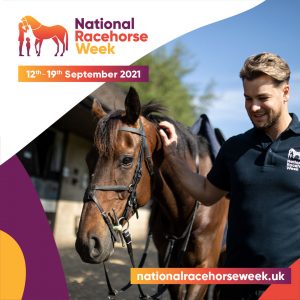 TV star and ITV racing presenter Chris Hughes has today launched the UK's first ever National Racehorse Week which will run later this year from 12th -19th September. The week will celebrate the nation's racehorses and will see trainers across the country opening their yards to the public so that they can witness first-hand the care, love and attention that goes into looking after racehorses and the fantastic lives that these magnificent animals lead.
The first of its kind, National Racehorse Week will see over 100 trainers from across the country open the doors to their yards in a nationwide celebration of the racehorse and will include existing open days at some of British racing's most important training centres including the Malton and Epsom Open days on the opening weekend (12th September) and the Henry Cecil Open Weekend in Newmarket (18-19th September.)
Chris Hughes, who himself often rides racehorses at trainer Jonjo O'Neill's yard and frequently features his favourite horse, Annie Mc, on his social media channels said, "As someone who loves racing, I'm so excited that everyone will have the chance to go behind the scenes at a racing yard near them and see the wonderful care that horses receive. Racehorses are like family to the people that look after them every single day of the year and it will be brilliant for members of the public to meet their local equine stars, find out how they are looked after, chat to staff and see various different elements of a horse's training regime – from being out on the gallops, to seeing the physio and even taking a dip in an equine swimming pool!"
With new stables being added all the time, each of the individual yards that is opening up is listed on the nationalracehorseweek.uk website where a postcode search allows visitors to find their nearest open yard and sign up to attend for free. Activities will vary from yard to yard and will include things such as meeting racehorses and those that have also retired; having a tour of the facilities; seeing the horses exercising on the gallops, treadmills and swimming pools; welfare demonstrations such as horse physio and farrier demonstrations (putting on a horse's shoes!) as well as offering light refreshments.
One of those looking forward to welcoming members of the public to his yard is trainer Richard Phillips who originally came up with the idea of National Racehorse Week. He said, "National Racehorse Week is a brilliant opportunity for everyone in racing to come together through their common love for the racehorse and provide a wonderful insight into the world of racing. Horses are our heroes, and we are looking forward to opening our doors and offering a big-hearted welcome to everyone. So much love and care goes into looking after our horses and we can't wait for this nationwide celebration of the racehorse."
Godolphin Stud and Stable Staff Award Finalist and Rider/Groom Faisal said: "Every racehorse is different and has its own personality, part of the fun of working with them is getting to know their cheeky ways. I love that National Racehorse Week gives us a chance to show them off at home and people can get to meet them for themselves".
Trainer Rebecca Menzies and her team in Sedgefield will also be welcoming people to her yard. She said: "I am so proud of the dedication and care that my team take in looking after and preparing our horses every single day of the year. Being able to show the public what goes on behind the scenes is a fantastic idea."
To find out which yards are open in your area there is a postcode search on the website that will direct you to the activity closest to your home. Please visit www.nationalracehorseweek.uk now to book your free place.